Communities

Seward, Alaska
Situated at the head of Resurrection Bay on the Kenai Peninsula, Seward is one of Alaska's oldest and most scenic communities. Experience trophy sport fishing, glacier and wildlife cruises, sailing, hiking, kayaking, flight seeing, summer dog sled rides, and more.
Residents are drawn to Seward for our sense of community and quality of life. Honored as a three-time All America City in 1963, 1965, and 2005, Seward has so much to offer.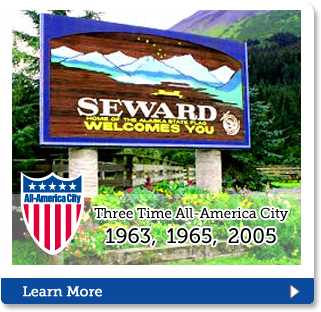 Alaska Sealife Center
Alaska's only public aquarium and ocean wildlife rescue center is celebrating ten years on the shores of Resurrection Bay. Visitors to this "window on the sea" have close encounters with puffins, octopus, sea lions and other sealife while peeking over the shoulders of ocean scientists studying Alaska's rich seas and diverse sealife.
Seward Area Public Schools
Here is a link to the Kenai Peninsula Borough School Districts website to offer more information on our local schools.
Sewards on Facebook!
The Seward Chamber of Commerce has an awesome Facebook page! Check it out and see what's happening in Seward!
Seward Recreation
Seward Parks and Recreation is having fun and staying busy! They are a fun bunch of folks, follow them on Facebook.